Dive into the realm of aromatherapy and keep your environment hydrated and clean with the Air Humidifier and Purifier all in one!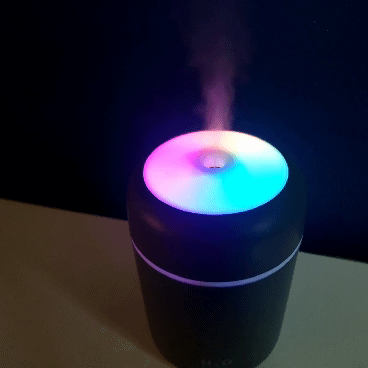 This room humidifier is the best solution to combat dry air and increase the amount of moisture in the room. Doubling as a cool mist humidifier and air purifier, it is used to moisturize air and relieve a variety of conditions including cold and flu symptoms, nasal congestion, allergies, asthma, skin irritation, teary eyes, dryness of throat and other problems in the airway caused by dry air. Flu germs and other viruses survive and spread more easily in dry air conditions. Boosting your indoor humidity level makes it less likely for germs to survive and transmit to those around you. This mini diffuser works wonders to boost immunity and fight infection. Plus, it brings all-natural healing power of aromatherapy to your home or office with a stylish design that complements any decor.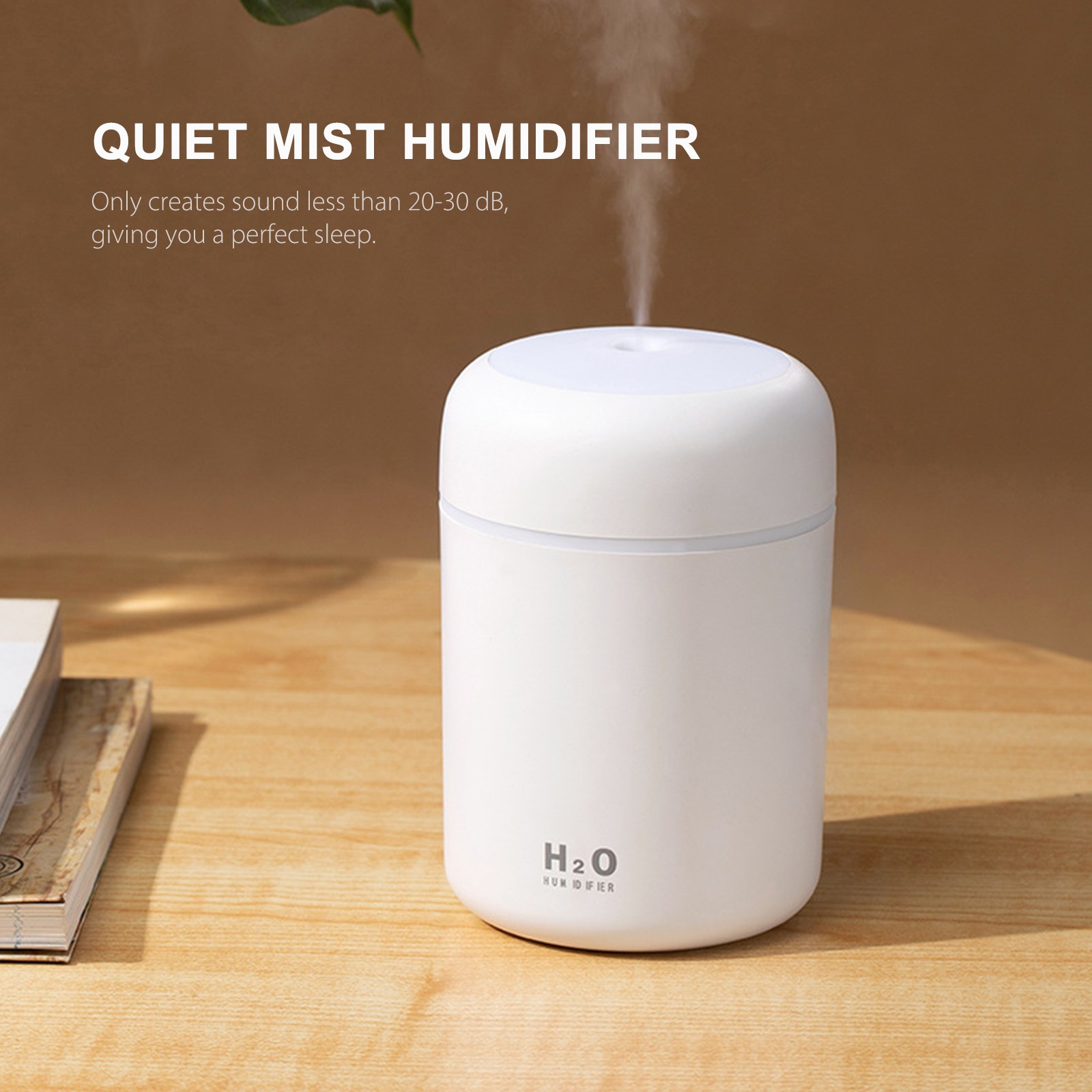 The benefits of using the air humidifier and purifier:
Refreshes and moisturizes the air in the room
Alleviates allergy symptoms
Kills bacteria and viruses
Prevents cold and flu symptoms
Eliminates dryness of skin, throat, and other problems in the airway
Promotes better breathing and a more comfortable sleep
Sets the mood for yoga and meditation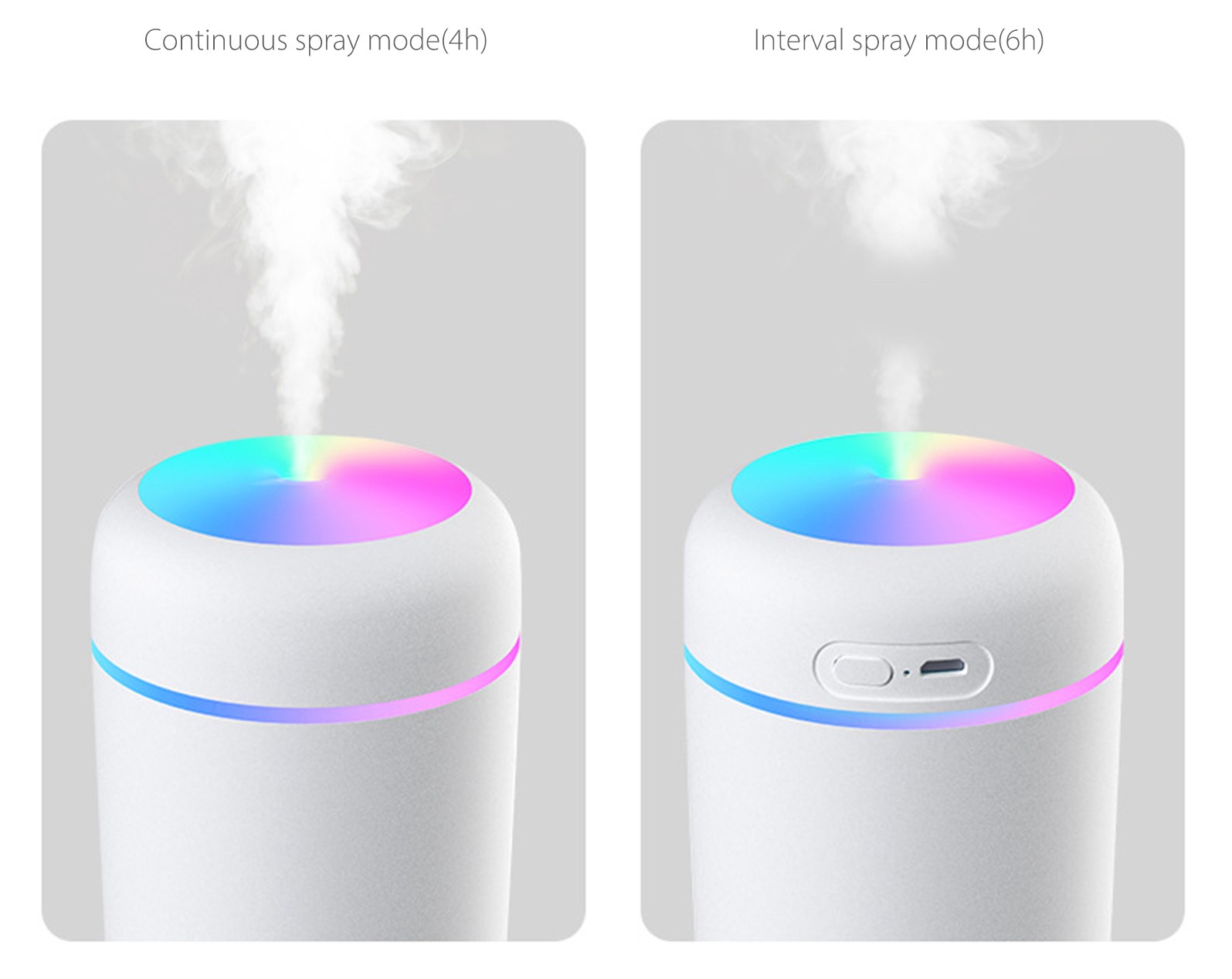 This easy-to-use mini diffuser uses high-frequency ultrasonic vibrations to produce a visible cool mist to add moisture freshening your home space. Due to the compact size of the device, you can easily place this diffuser on your desk or bedside table without occupying much space. It features 2 mist options including continuous for up to 4 hours or intermittent for up to 6 hours allowing you to fully experience the therapeutic benefits of aromatherapy. This device is extremely user-friendly with a one touch control for all functions and an auto shut-off feature when the water runs too low. Optional color-changing LED light creates a relaxing ambiance and soft night glow helps set the right mood and relieve stress. Gentle, whisper-like ultrasonic operation is perfect for use in a nursery, bedroom, office, car spa or yoga studio.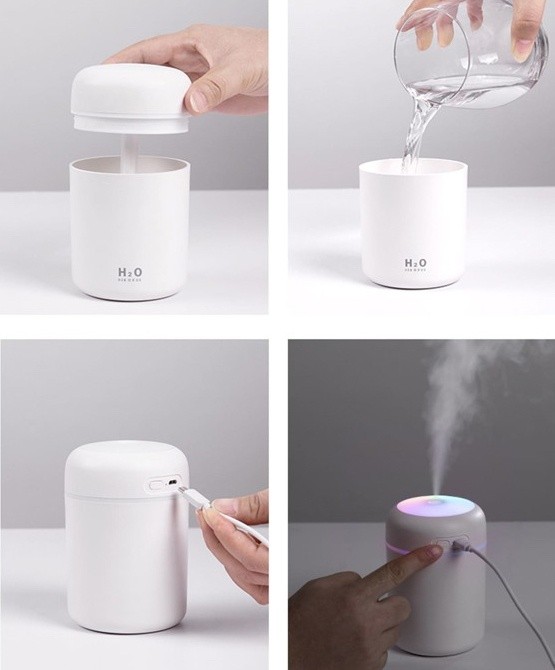 Setting up this air purifier is easy. Fill the 300ml water tank, connect the USB plug to a power outlet and turn on with a simple On/Off power button. You also have the option to change mist settings and turn on the color-changing ambient or night light with a long press. A super simple, convenient, and effective solution for moisturizing air at home or in your workspace.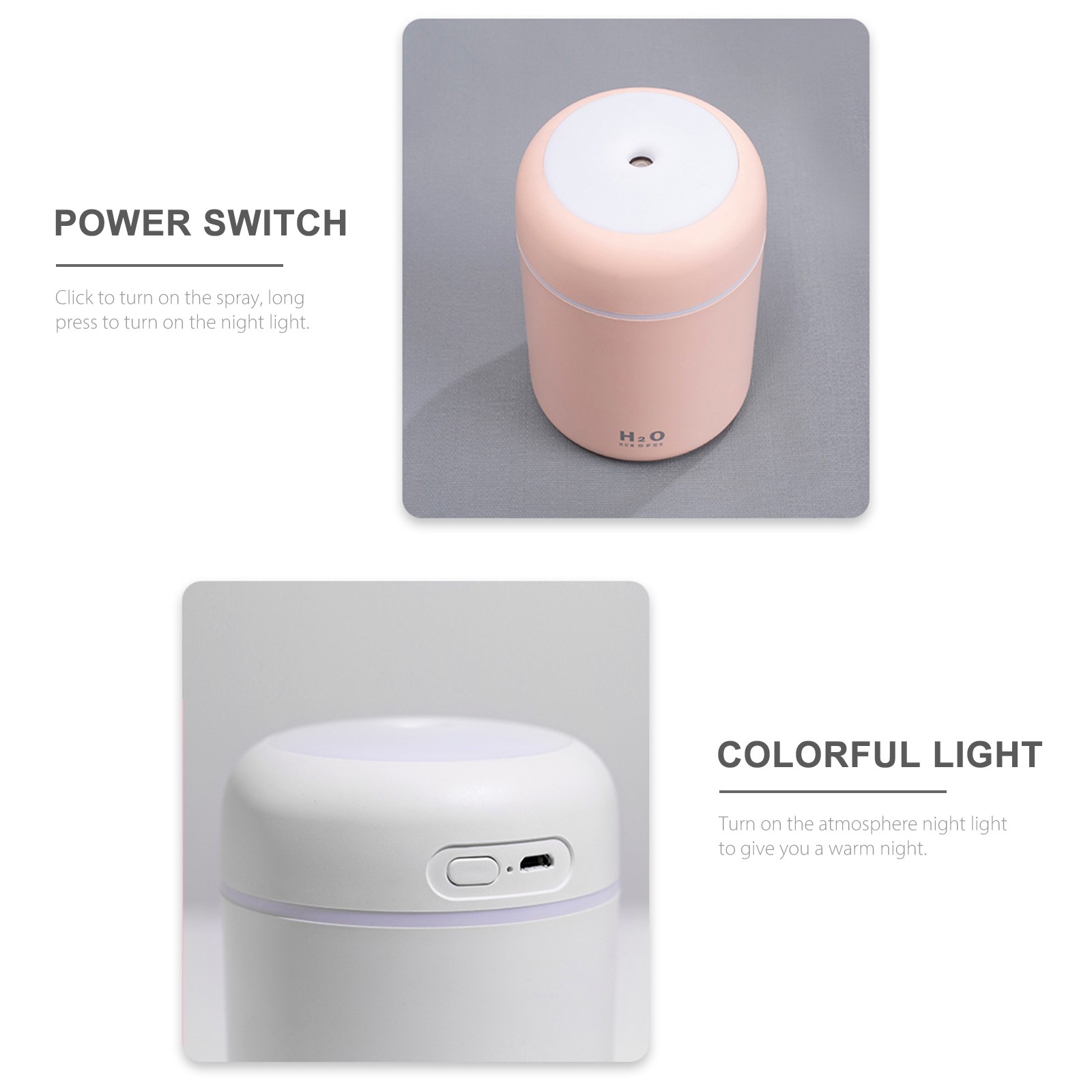 KEY BENEFITS:
✔️ RELIEVES A VARIETY OF HEALTH CONDITIONS — Relieves cold and flu symptoms, nasal congestion, allergies, asthma, teary eyes, dryness of throat and skin. Also great for respiratory comfort and better sleeping.
✔️ 2 MIST MODES — Can mist continuously (up to 4 hours working time) or intermittently (up to 6 hours working time).  
✔️ PORTABLE & LIGHTWEIGHT DESIGN — Enjoy all the benefits this 300ml travel humidifier provides while you are on the go. Ideal for home, office, car and travel use.
✔️ USB POWERED — Can be powered by a laptop/PC, power bank, USB AC adapter. 
✔️ QUIET OPERATION — Uses high-frequency ultrasonic vibrations to evaporate the water which makes it a perfect companion when you are sleeping or working long hours in front of your laptop.
✔️ AUTO SHUT-OFF — Features automatic shut off when water level drop below the standard level line to protect the humidifier from damage and ensure your safety.