If lower back pain or hip discomfort keeps you awake at night, The Orthopedic Knee Pillow is the solution you've been searching for! Enjoy a healthier night sleep!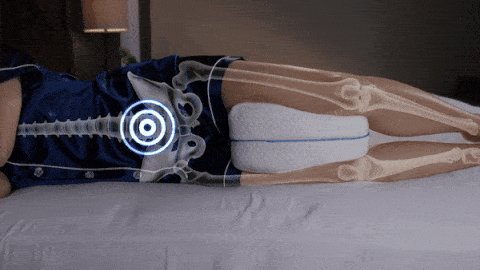 Having lower back or knee pain can keep you tossing and turning all night long and have harmful effect on the overall quality of your sleep. Poor alignment, joint and back pain are just a few causes of unhealthy sleep. Using the Orthopedic Leg Pillow, you can improve and eliminate multiple health problems and finally feel well-rested. The contour pillow is ergonomically designed to fit comfortably between your legs and provide ideal spinal alignment and support that helps reduce sciatica, lower back, and hip or joint pain. It forms a thick cushion barrier that separates the legs. By restoring the natural alignment of your spine, the pillow helps alleviate pressure points that often cause discomfort and pain. Experience how this knee pillow gently cradles your legs and provides the sleep support needed for your lower back, knees, hips, joints, and sciatica.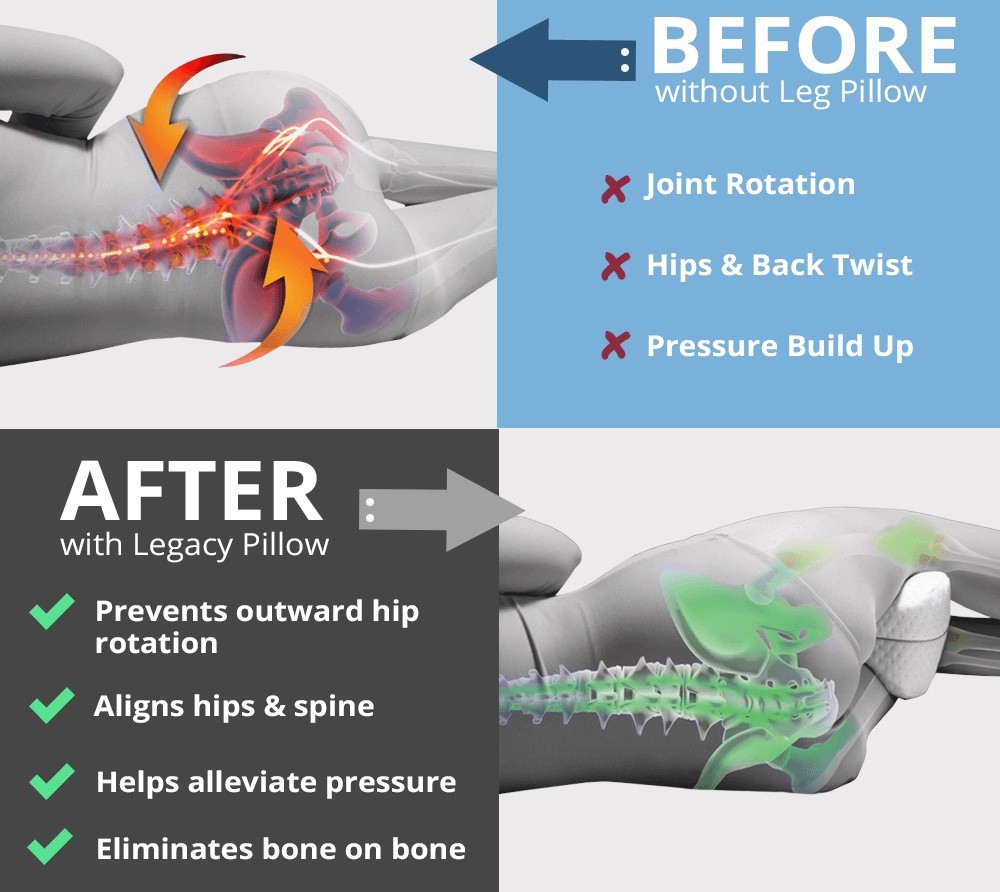 The benefits of using the orthopedic leg pillow:
Restores your natural spine alignment to help alleviate uncomfortable pressure
Relieves sciatica, lower back, and hip pain
Stabilizes the pelvis and lower back
Reduces pressure on knees, hips and lower back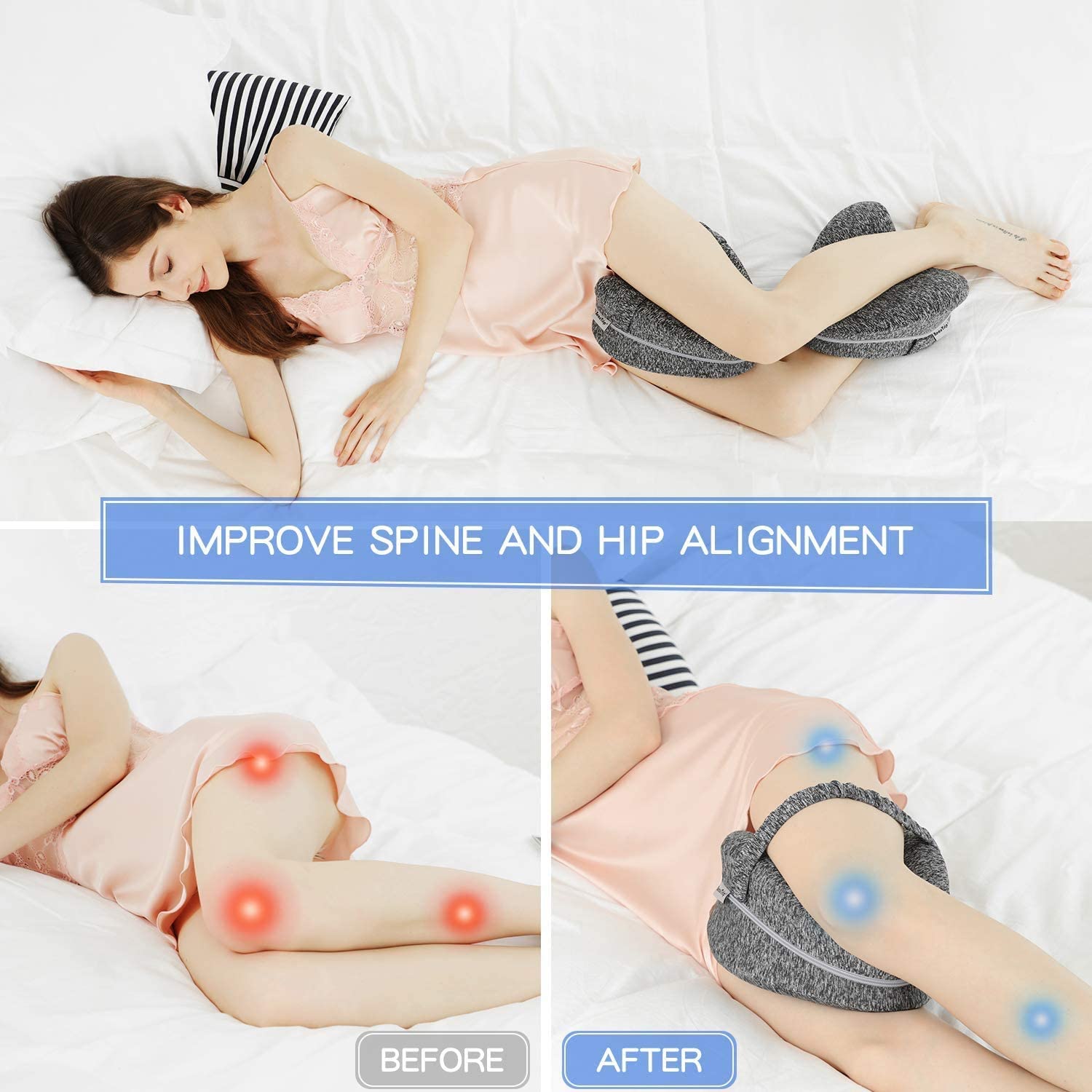 The orthopedic leg pillow is recommended for:
Side sleepers — Side-sleeping can put pressure on your spine, hips, and sciatic. The contour pillow cushions your knees and cradles your legs, relieving stress on joints while restoring your lower back alignment to help alleviate back, hip, leg, knee and sciatic nerve discomfort.
Back sleepers — Many people find that sleeping with a pillow below their knees can relieve tension and stress. This can also lift the lower body, help adjust posture, and improve blood circulation to the legs. Therefore, the knee pillow is particularly beneficial for supine people with poor blood circulation.
Pregnant women — For many pregnant women, putting a pillow between their knees to sleep will reduce the pressure on the hips and pelvis. The knee pillow can also help pregnant women who have spinal instability due to back problems.
People with lower back or knee pain — Keeping legs and knees aligned can reduce discomfort for people with back pain.
People suffering from varicose veins, arthritis, arthrosis, osteochondrosis, as well as restless leg syndrome (RLS) — the knee pillow provides additional stability and helps prevent the legs from moving too much.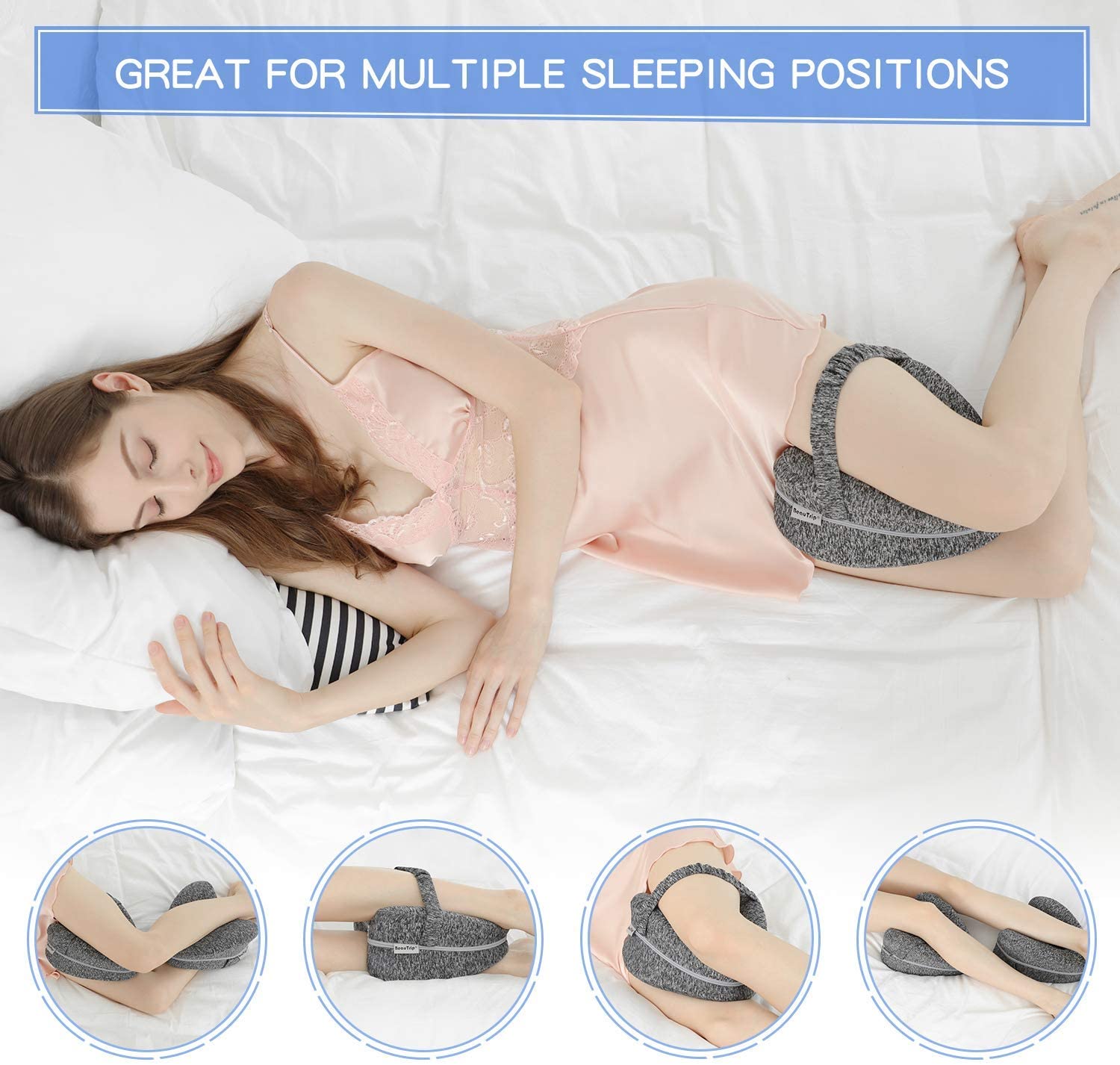 The contour pillow features an ergonomic design with its soft curves, and the precise shape of the pillow contours to fit the natural shape of your legs comfortably without restricting movement or requiring you to sleep in a certain position. Made of memory foam, the pillow holds its shape to provide maximum support. The tapered edges give your knees a full range of mobility. The ventilated design promotes air circulation throughout the night for your legs to stay cool. Thanks to the elastic leg strap you won't be constantly adjusting your knee pillow throughout the night — it stays in place all night long. Place the pillow between your knees or legs while side sleeping, use it to elevate your feet, knees or calves or place it under your waist for extra support. You can even use two pillows together for full body alignment to get the all-night comfort and support you need.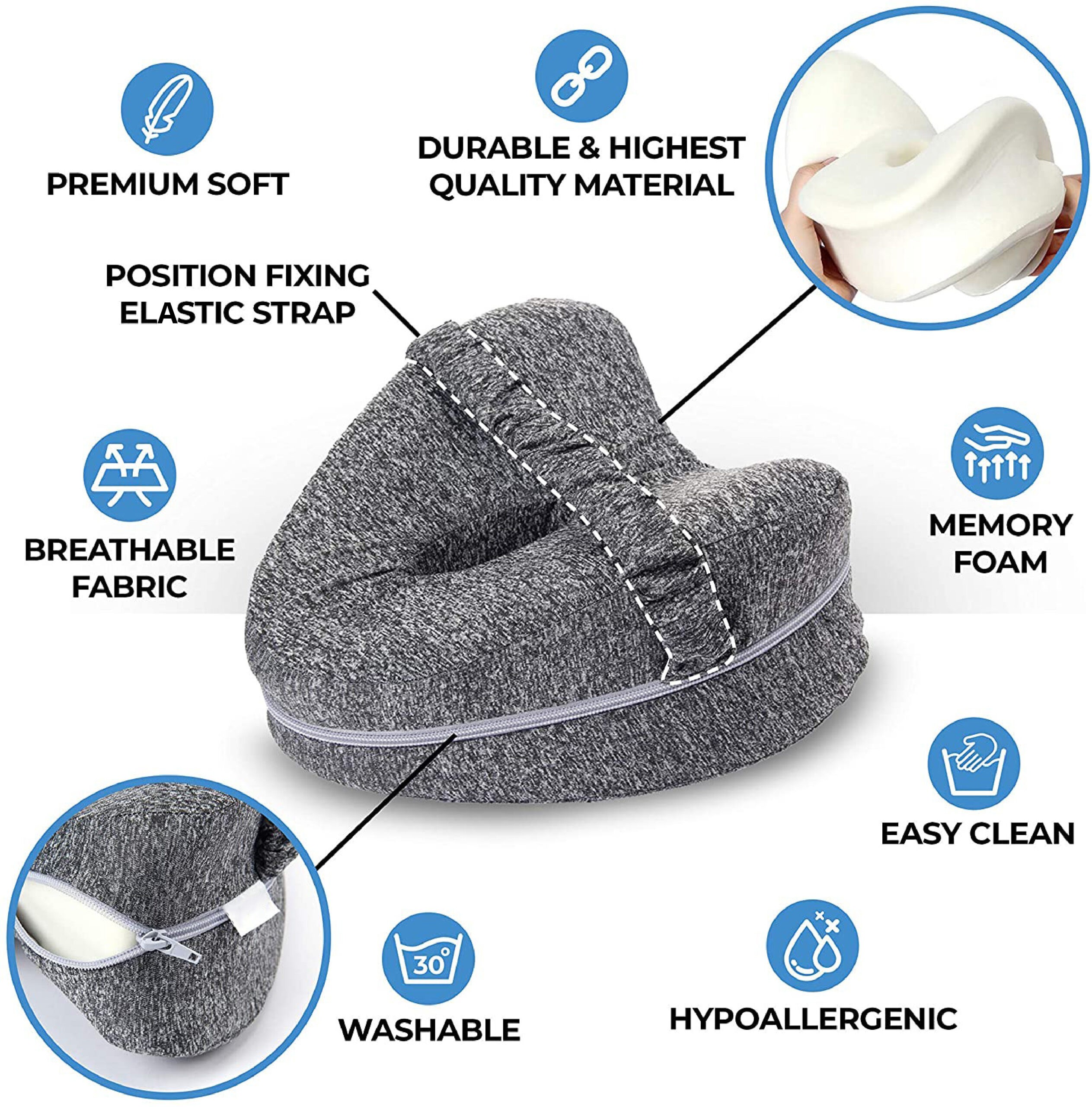 KEY BENEFITS:
✔️ SCIATICA, LOWER BACK & HIP PAIN RELIEF — Specifically designed to drastically reduce lower back, hip and sciatica pain. The pillow properly aligns legs, hips, and spine to help relieve pain and pressure on your lower back.
✔️ KNEE STRAP — Designed to let the pillow stay in place all night long.
✔️ PORTABLE — Take it with you anywhere: on a plane, on the train, or even on the bus for your daily commute.
✔️ DURABLE — 100% high-density memory foam is durable, holds its shape and provides long-lasting comfort,
✔️ ZIPPERED & WASHABLE COVER — Designed with a zippered cover that is removable and machine washable for easy and simple cleaning.